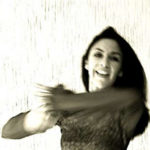 Araceli Bárcenas is a Mexican dancer, teacher, dance therapist and choreographer. She defines herself as a continuous seeker of body languages. She has lived in Italy since 1996.
Along with a degree in Economy, she was also a journalist for over 10 years and travelled among the indigenous communities of Mexico before deciding to dedicate herself to professional dance. This path greatly influenced her later anthropological vision of the theatre.
Araceli has studied classical dance, contemporary dance, Afro-Antillean dance, theatre and dance therapy in Mexico, France and Italy. Some of her mentors include: Simona Bucci (today assistant at the Carolyn Carlson), Malou Araudo (Tanztheater Wuppertal of Pina Bausch), Augusto Omolú and Julia Varley (Eugenio Barba's Odin Teatret), Elsa Wolliaston and George Momboyé (Afro dance), Caridad Valdes (afro Antillean dance).
Araceli completed her studies in Cuba, where she explored the rhythms and roots of the Yoruba and Afro-Cuban dance.
She is a passionate traveller who often visits different countries to observe the folk traditions of dance and extract their essence. She is self-taught in subjects such as psychology, philosophy, anthropology and art, which help to enrich the conception of her dance.
Disciple of the Argentinian teacher Maria Fux, she graduated from "Centro Creativo de Formación en Danza Terapia María Fux" with the title of 'Dance Therapist'.
She cooperates as dancer, choreographer and interpreter in Mexico with renowned choreographers and directors such as: Marco Antonio Silva, Cecilia Appleton, Caridad Valdes, Alejandro Aura and Susana Frank.
In 1996 she moved to Italy where she maintains an intense schedule as a teacher and researcher; creating courses on Afro-root techniques, courses of investigation into the practice of primitive and creative contemporary languages, stage, workshops and seminars in different cities throughout Mexico and Italy.
Interested in creating a proper language, she researches the roots of movement and gestures in relation to the principles of theatre and dance therapy, based on the study of archetypes.
In 2004, as a result of this path, Araceli founded and directs the " Scuola Danza Teatro delle Origini" ("School of Dance and Theatre of the Origins"), whose method forms part of the academic program of the "Facoltà Scienze della Formazione dell'Universita degli Studi di Firenze" (Faculty of Education Sciences of the University of Florence), Italy.
She is the author of the essay "La danza delle origini, interrelazione tra danza, teatro e aspetti terapeutici del movimento"(The dance of origins, interrelation between dance, theatre and therapeutic aspects of the movement) published in the book " L'avventura formativa tra corporeità, mente ed emozioni" (The formative adventure between body, mind and emotions), of the University of the Studies of Florence. She has been teaching for over ten years at the "Scuola di Formazione per Operatori in Danza Terapia " (Training school of Dance Therapy Operators) in Florence and Trieste and at the Centre of Art and Dance Therapy in Tuscany, Maria Fux's method with the subjects "Alle radici del movimento" (At the roots of the movement) and " Storia della danza, teoria e pratica" (History of the dance, theory and practice).
The Dance of the Origins method includes research laboratories in natural and outdoor environments. Araceli produced and directed the film " Metamorfosi", a dance and theatre piece dedicated to the city of Florence which was a finalist of the first edition at the Florence Short Film Festival in 2014.
She has collaborated as a teacher and independent artist with the most prestigious schools in Italy, for example "Centro Danza e Movimento" and "Opus Ballet" working with all age groups from children of the age of three.
More than 20 years of intense uninterrupted work has confirmed that the method of the School is valid in order to train new teachers by facilitating technical instruments and fundamental principles of the creative art of dance and movement.
Araceli is the founder and Director in Italy of "Associazione Culturale Patio y Mitote", through which she continuously creates trainings, workshops, stage, seminars, events and plays in the domain of education, art and culture.
The group "DanzAra" was born in 2016 and aims to create representations of dance and theatre. The first production "El Sol Negro" (The Black Sun) was in January 2018.
INTERNATIONALLY
She has workshops and labs in Mexico, Spain, Brazil and Chile.
In Mexico she worked as a guest teacher for celebrated schools such as "Escuela de Danza del Instituto Nacional de Bellas Artes( INBA)", " Estudio Ema Pulido", "Studio 14", "Contemporary dance company Contempodanza" and as a permanent teacher in "Escuela Laboratorio Teatro La Rueca". She directs the creation workshops for the theatrical works "Agua, música para la voz" and " El Viaje de los Binigulasa" by director Susana Frank, member of the "Sistema Nacional de Creadores de Arte" FONCA.
In Brazil Araceli works with people that live in a high vulnerability areas. For three consecutive years now she has worked in Chile, especially with woman and teenagers in high schools and in the Centre "Danza Movimiento Terapia DMT Chile". She danced and created the choreography of "Madre Tierra" for the "Escuela de Danza Tribu Ganesh", presented at the theatre San Gines in Santiago de Chile in 2017.